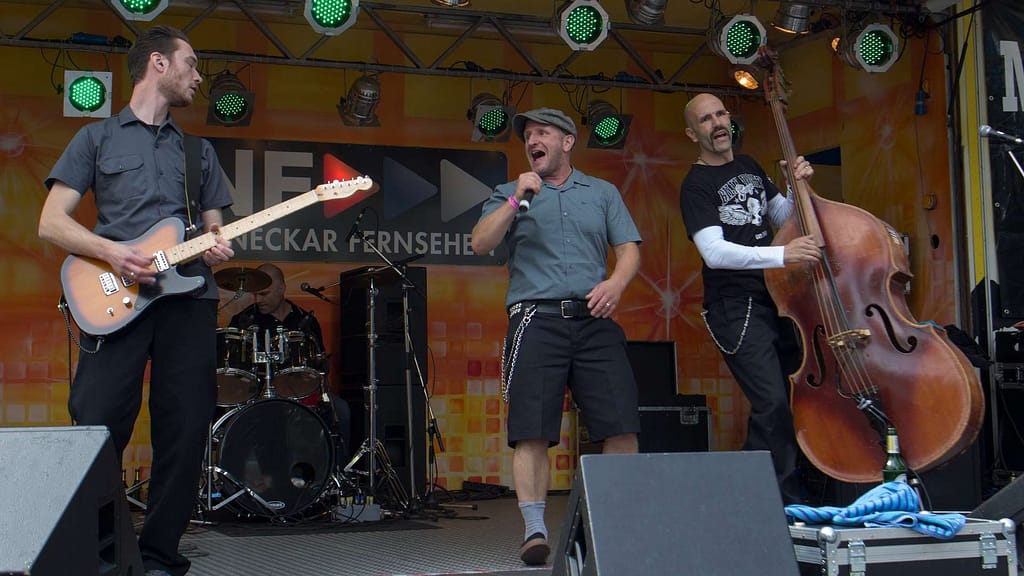 Music at Your Hotel or Restaurant and Licensing
Ah music, it creates atmosphere and is a great way to help position your property. It can also cause a lot of noise with regulatory bodies if you not done properly and give you quite a headache, like too much subwoofer pounding all night.
Hospitality Marketing
In hospitality marketing, there are 8 different components, and when you read my blogs I often refer to this point. So how does music at your hotel or restaurant tie into marketing for the hospitality business?
In This Article
In this article, we will take at the licensing requirements to have music at your hospitality property, who those regulatory bodies are, and an estimate of what it will cost for background music. There are some great links within this article to save you time, help you determine what your costs could be as well as making it easy for you to register with the proper regulators saving you time on administrative work.
Music In Hospitality
Music ties into the hospitality business because it becomes a part of the Physical Evidence of the property because it impacts the mood within the property. It can also be a component of positioning and branding. For example, the use of live bands for your restaurant can be a competitive positioning strategy when those around you don't offer it. It can also set the mood of your hotel lobby, do you have classical music playing or something more upbeat and contemporary. Upbeat music would be more appealing to those in millennium demographic checking out your boutique hotel but a lounge singer crooning toons from the forties would send a mixed message and could lead to brand confusion
How Regulators Find Out
One of the biggest things you may be thinking is, "how are they ever going to know". Social media can be a double-edged sword here. If you are promoting music at your hotel or restaurant your business and a live event anywhere they are listening. One of the easiest ways that they can find out is if you are posting your events online. Such as "Every Wednesday Night Come Hear Live Music". This is something that you may have listed on your website. Additionally who has ever heard of a hotel or restaurant not having some sort of music playing in the background, so general business records and cross-referencing also apply. Of course, you could just wait and see and not pay the licensing agreement but that can be so much more expensive once you consider the fines, the legal fees, and possibly even jail time.
Registering Licenses For Music At Your Hotel Or Restaurant
The band members in Canada are SOCAN, RE:SOUND and Entandem. Entandem is co-owned and overseen by both SOCAN and RE:SOUND. Entandem is the organization that is now administering the licensing so that you don't have to contact both but it is highly recommended that you get both licenses from SOCAN and RE:SOUND to make sure that you are completely covered in regards to copyright laws.
Canadian Copyright Law

https://www.ic.gc.ca/eic/site/cipointernet-internetopic.nsf/eng/h_wr02281.html
https://canadabusiness.ca/blog/do-you-play-music-in-your-business-you-may-need-a-socan-licence-1/
How Much Can You Expect To Pay
I called Entandem because when I looked at the rates on the SOCAN site only went to 2017. What I was told from Entandem was that because of copyright laws and various tariffs when the rates are updated the updated rates would be demonstrated.
To help you determine what it could cost you for music at your hotel or restaurant I have included a link to the calculator at SOCAN https://www.socan.com/what-socan-does/licensing/license-finder/
Cost Example For You
Steps I took to determine a licencing cost
1) Went to SOCAN website and used their licence finder
2) I selected the business type, that being Business and establishments, and the business subtype being Bars/Restaurants/Nightclubs
3) Clicked on the calculator for background music
4) Selected Background Music
and entered the following information that can be seen in the screenshot.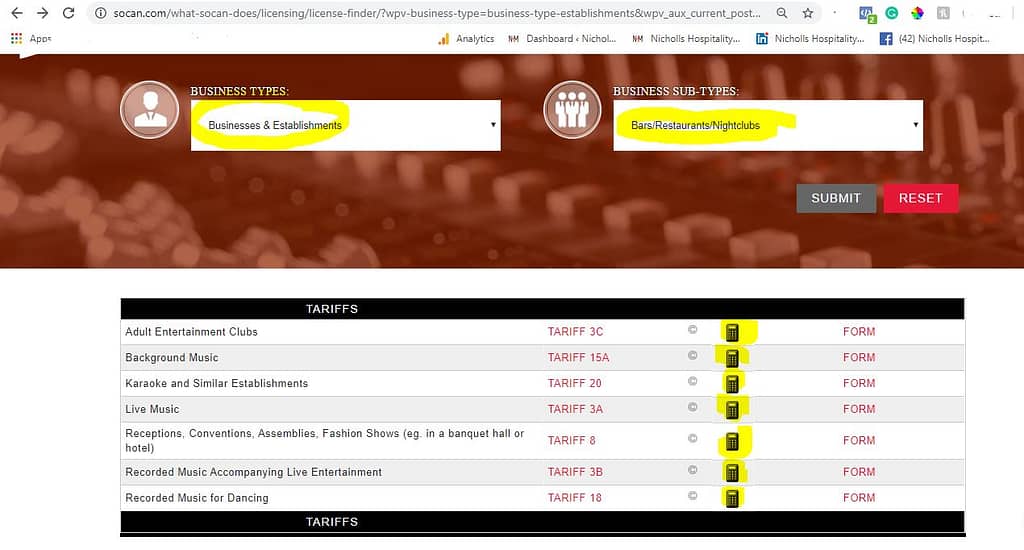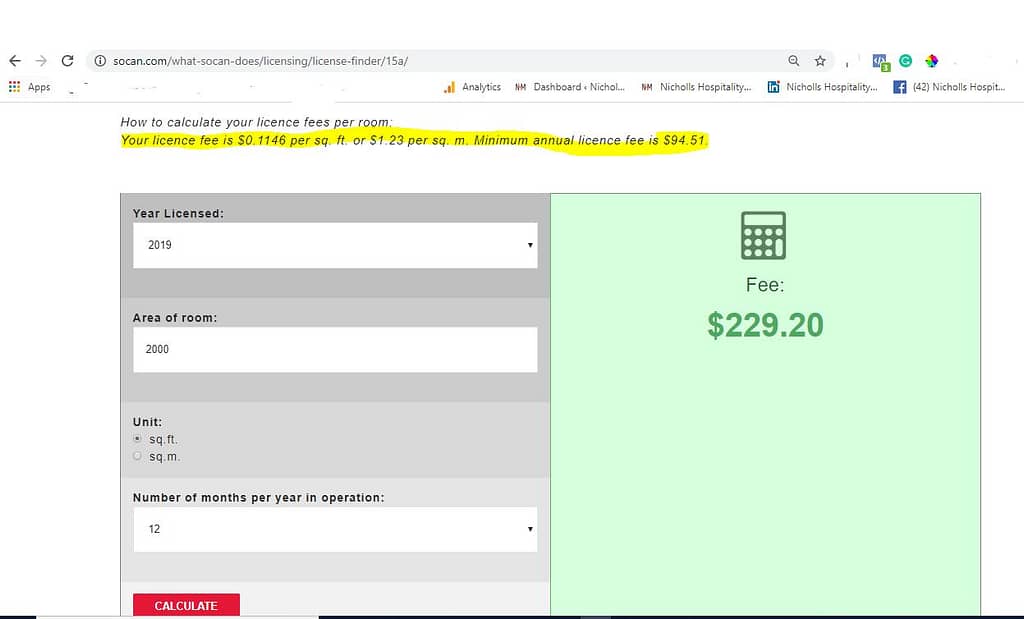 Costs for RE:SOUND
I also looked into RE:Sound and what their costs were for background music.
For the same situation, a business using music in the background, for an establishment of 2000 sqft, 365 days a year the cost would be $195.65 or 0.097825 per sqft. regardless of size.
So combined the two fees that the restaurant would be required to pay would be $415.85 in this situation. If you have live music there is still more to pay, which is not music to your ears.
Live Bands and Bands Using Original Music
It appears that more and more restaurants are choosing not to have live music because of the additional licensing costs. However, if you are using bands that play their own music to get around these costs I would suggest that it be well documented and that within the agreement with them that it stipulates that they only play their own music. Keep a copy of their setlist as proof if someone comes knocking on your door asking for payment. It is also important to note that if you are using live entertainment that the musicians you hire are not the ones responsible for paying or forwarding what your business would be required to pay for the use of copywrite music that they play.
Cost for Live Music that is not Original (using the SOCAN license finder calculator)
If You Don't Want To Pay The Regulators
If you don't want to have to pay the regulators for music at your hotel or restaurant there are some alternatives, there is still a cost so it is recommended that you do a cost comparison between your options.
Alternative Services to Help You
I understand that you have a lot going on and that one more administrative task is certainly not something that you would desire, any more that you want to be overpaying for the music you use. You also don't want to be paying fines and legal costs either. There are services that can make this process much easier for you. As a disclaimer, I am not an affiliate of any of the following services.
Soundtrack Your Brain
This company is a one-stop-shop and provides you with music that you can use at your restaurant or hotel, without having to be concerned about copyright issues. Soundtrack Your Brain also gives you a great cost calculator and a great way to schedule your restaurant's soundtrack.
Cloud Cover Music
One of the great features of Cloud Cover Music especially for hotels and resorts is that you can create different zones within the system, so you can be rockin' out at the bar or have calm and peaceful music by the pool.
Rockbot
Rockbot is a service provider that highlights their customer service and ease of set up and can provide service anywhere in the world with such a large selection that you will never live to hear it all.
So To Review
You are legally required to pay for the music at your hotel or restaurant and not having either the licenses in place or service to provide you with music can create unexpected and expensive costs. It is expensive to have music but by using a music service provider you can save yourself a lot of money and administrate headaches, and I am sure that is music to your ears.
Nicholls Hospitality Marketing is a marketing agency that specializes in marketing for hotels, restaurants and tour companies.