Hotel Welcome Gift Packages
In this article we will look at:
1) Components Of A Great Welcoming Gift
2) Industry Costs Of Welcoming Package
3) Challenges with Presenting a Welcoming Gift
4) The Impact Of Not Doing It
4) Using Physical Evidence Post Stay
As a guy who loves hospitality marketing and believes that more needs to be done to address all eight aspects of hospitality marketing one area that is not very well covered is the role that Physical Evidence plays in the marketing plan. There are the big things that your property improvement plans covers and will definitely have an impact on creating a service level expectation, experience, and demonstrating value for the guest but the small things can make a big difference too. The small things such as the welcome package that a guest receives can go a long way especially when they are personalized and tailored to the arriving guest. I understand that it is easy to have a standardized welcome package but it's not very competitive.
Components of a Great Hotel Welcoming Gift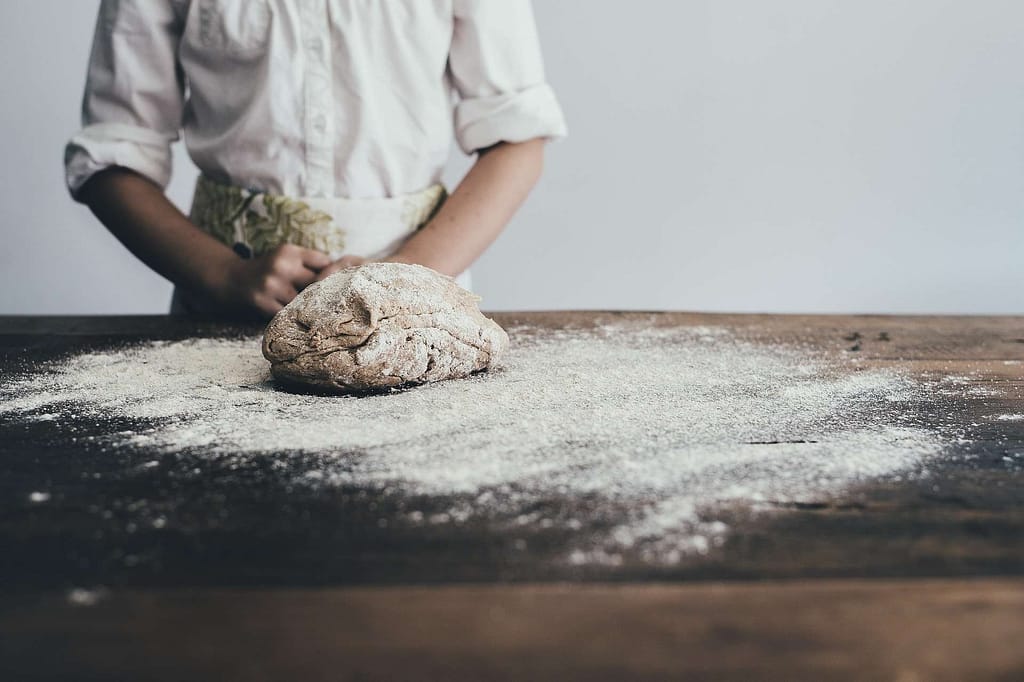 Gold Medal Cookies Don't Require A Lot Of Dough
A welcome package can be a great way to make a very personal first impression, it can let your guests know that you really care about them and are attentive to their needs and wants. When I worked at the Fairmont Royal York Hotel in Toronto I worked in the Guest Services Department. One of the parts of my job that I enjoyed the most was "Turning Moments into Memories". It was about creating memorable experiences for guests. I'll share one that I was able to create for a wonderful guest that I was fortunate enough to care for. An Olympian stayed at our hotel and was going to meet one of Canada's highest-ranking leaders. I found about this as I was helping the guest to their room. I wanted to provide something special for this guest, a way to let them know how special they were. So I spoke to our bakery, the Royal York is a huge hotel and had its own bakery. So I asked if they could make some special Gold Medal cookies to celebrate the Sweetness of Victory. The bakery was able to find some gold leaf shavings that were edible and they were sent up to the guests' room compliments of yours truly. The guest truly enjoyed them and wanted to thank me personally for my thoughtfulness, unfortunately, I was working the next day and missed the opportunity to meet with this person.
Components of a Great Welcoming Gift
The gift should be thoughtful
The gift should be very personal and demonstrated knowledge of the guest
The gift should be unique
The gift should be highlighted something important to the guest
The gift costs' should not be exorbitant
The gift must be timely
Hotel Industry Standards for Expenses on Complimentary Services and Gifts
I understand that you most likely don't have a bakery in hotel, or short term rental property and that really isn't the point. The point is to know your guests and to make them feel as welcome and special as possible without breaking the bank, after all, you are in business to generate a profit.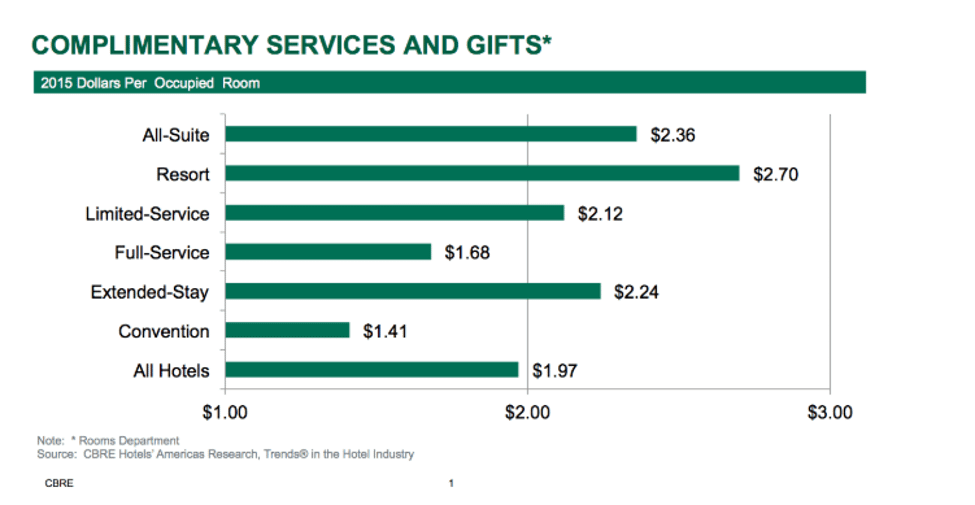 Challenges of Using Hotel Welcome Gifts
How Much Do You Spend?
Getting the amount to spend on the welcome gift can be difficult and I don't believe that there is a set formula other than you need to remain profitable and consider the big picture. In a recent series on Netflix one of the shows' hosts mentioned that it would be within reason to spend 10% of a single night rate on a welcome gift, to me that seems incredibly high. In a federal report, the average hotel profit ranged from a loss of 19% to the top quartile being a margin of 35%.
Determining Actual Costs
When considering this program depending on your property and it size there may be other costs to consider beyond the actual gift, these may include the time spent, preparing the gift if the gift is assembled by staff rather. The time that housekeeping may spend on placing the gift within the room, while not much if it takes them an extra 10 minutes to get the gift and there are 6 arrivals that day this is an extra hour that is spent that is taken away from preparing rooms. It is a good practice that if you are using the housekeeping to place the gifts that they are not kept on their housekeeping carts as they could be in contact with cleaning supplies that diminish the quality of the gifts especially if they are food type of gifts. Regardless of who places the welcoming gift, they need to be placed there by someone and at a time when the room has been prepared and is ready to receive the guest. You may also need to update your website to help capture additional guest information.
Staff Training
In order to see opportunities to really wow a guest your staff needs to be in the right mindset to do this. They need to be actively listening, and be empowered to act. This will require you to set some guidelines. The Ritz Carlton has an empowerment program where their staff can spend up to $2,000 per guest incident to wow them and solve problems for their guest. The Ritz Carlton also has one of the highest guest satisfaction scores in the industry and has one the Malcolm Baldrige National Quality Award.
Perception Problems
Another problem that can occur is that the gift when extravagant enough no longer looks like it is a gift but an unrequested expense that has been built into the cost of their room. Of course, all gifts are covered from the revenue that the hotel is generating through their occupancy but it should not be viewed as something that they, the guest are actually paying for anyway. Much like a guest knows that other people have enjoyed the room before them, they don't want to think about it because it detracts from the experience of a genuine and thoughtful welcome. Having various room upgrades can be a great source of additional revenue for the hotel, such as chocolate-dipped strawberries and champagne, especially around special dates like Valentines'.
Loss Leader

Including welcome gifts and complimentary services as a loss leader may be a way to entice a group booking when the gifts are offered to the meeting planner, and by meeting planner I am referring to the person in the group that will be running the meetings on-site and not an event management company. The costs of the special services for the group planner can be distributed throughout the increased overall revenue that is generated from the group booking and any additional amenities that the group may require such as meeting rooms, AV equipment, and food and beverage packages.
Expectation Management
Managing expectation is so important and the welcome gift is intended to help the accommodation provider to supersede the guests' expectations, build goodwill and perhaps even work towards brand loyalty and repeat bookings. Recently I was out on a walk after an incredible blizzard had the pleasure of meeting a very friendly and genuine hotel general manager named Steve who was shoveling snow and digging out his hotel. During this sever blizzard all of the city was shut down and under a state of emergency so all stores were closed and no vehicles were allowed or able to travel on the streets. One of the guests had mentioned to Steve that he and his wife could really go for a drink. Steve went out of his way to find 12 great local craft beers for his guest and wife, which resulted in the guest committing to booking an additional 6 weeks at the hotel later on this year. The guest was completely surprised how would this manager find and get the impossible and meet his needs. The guest didn't book because of the beer, he booked because his expectations were more than meet and knew that he would be cared for regardless of any situation this gift showed this.
The challenge occurs when the guests start to expect the gifts and if they are missed the perceived value is lost and a service failure has occurred. Yes, the guest did receive exactly what was promised the room at the rate, but because of the consistency of the gift, it becomes expected. To help overcome this situation the accommodation provider can create guest tiers and special rates tied to their revenue management structure creating rate fences so that expected gift becomes a revenue source and loyalty mechanism for the accommodation provider, it can also become a great positioning tool for the accommodation and a point of competitive separation in their competitive set.
The Impact Of Not Providing a Welcome Gift for Hotel Guests
The impact of not providing a welcoming gift is your competition may be. In a time when accommodations have become so incredibly competitive and commoditized it is difficult to justify missing an opportunity that would give you an edge. You may wish to conduct your own research to determine the ROI for your property by conducting a post-stay survey. To do this simply have two groups of people to follow up with that stayed in the same room or room type during the same period so that their stay is as similar as possible but with the one group a gift is offered and to the other group no gift is offered and then compare the outcomes in terms of satisfaction, value for money, and likelihood to book again. This information can then be built into your marketing plans, room rates, and operations. If no benefit is found at your property then you have saved yourself the costs and efforts of implementing this program. If there is a financial benefit to your property then you will be armed with financial information to help owners and the finance department make financial decisions that are proven to be best for the property.
Using Physical Evidence Post Stay in Hotel Marketing
One of the most challenging components of hospitality marketing is that the product is intangible. After the stay, something that an accommodation provider can do to help stay top of mind is to send them a postcard it is simple and inexpensive and something that your competition most likely is not doing and you should have all the information that you need to mail the guest. This is not to replace an email marketing campaign but can help augment it. It can be used in some really creative ways such as a special invitation to an event or seasonal highlight. It is a tangible way to remind your guests of the experience that they had with you.
So To Summarize
A Great Welcome gift has specific components
There are various challenges and costs with creating a welcome gift program
The impact of not offering a welcome gift may be that your competition is
Physical Evidence can be used to help stay top of mind and augment your email campaigns post stay
Nicholls Hospitality Marketing considers all the factors that comprise hospitality marketing and exists to serve those that serve others. If you would like to start a conversation with us we would love the opportunity to.